Brush Strokes Fine Art, LLC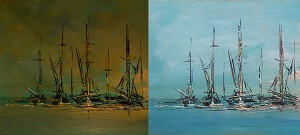 Booth: 539
Paintings, like us, are not timeless - they deteriorate over time. It is common for exposure to fade or cloud a painting. Older paintings may also suffer from paint flaking, spotting, foxing (brown spotting caused by relative humidity), smoke damage or other types of surface damage.
Fortunately, with specialized training and techniques, it is possible to restore these works of art and extend the lifespan of the piece for many more years. Fine art cleaning and restoration is a combination of art and science.
Commissioned portraits or paintings can be uniquely designed to fit your needs. People, pets, vacation memories, weddings, childhood homes - whether pastels on suede, oil on canvas, or watercolor on paper, for your own home or as a gift for family or friends, our custom portraits and paintings are created by hand to provide a unique and beautiful piece.